Stoke Bathrooms & Kitchens
Complete bathroom and kitchen renovations
Your first choice bathroom fitter for Bathroom & Kitchen renovations in Stoke-on-Trent & Newcastle-under-Lyme.
About Stoke Bathrooms & Kitchens
We are your complete bathroom and kitchen specialists in Stoke-on-Trent and Staffordshire.
My name is Simon and I am a bathroom and kitchen specialist in Stoke on Trent and Staffordshire.  I started my business back in 2011. For 10 years prior I worked developing properties. Whilst developing properties I found that it was very difficult to find plumbers and tilers that would turn up and get the job finished without continually not turning up and popping off doing other jobs. This can be very frustrating…
So why am I different?  I only undertake one bathroom or kitchen renovation on at a time, so I can complete within the agreed timescale. By doing this I can complete the work as quickly as possible without sacrificing on the quality.

What services do you offer?  At the moment I do full supply and fitting bathrooms and kitchen renovations only in Stoke on Trent and Staffordshire.
What guarantees do you offer? I offer a 12-month warranty with all my full renovations (see terms). Also, I am fully insured via Simply Business for bathroom and kitchen fitting.
What next?  Please fill in the contact form or call me to arrange your free quote. I will pop out at a convenient time that suits you. Quotes are free within my local area. I am happy to travel further but may ask for you to cover costs.
Bathroom and Kitchen renovations can add value to your home in Stoke on Trent and Staffordshire.

Two of the most valuable rooms in your house are your kitchen and bathroom – and therefore the most likely to add a bit of extra value onto your home.
Contact us for your free bathroom or kitchen  quote in Stoke on Trent and Staffordshire.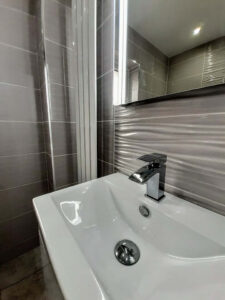 Bathroom Renovation
I first met Lesley in 2018 when she contacted myself for a bathroom renovation quote. Lesley decided she would have both her bathroom and kitchen
Read More »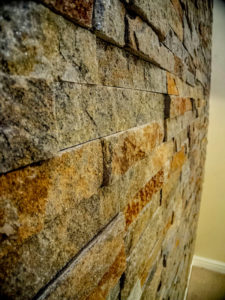 Feature Tiling
 Tiles are not just for your kitchens and bathrooms!  *This is another job completed for one of my regular customers, Mr Jones in Lightwood. A
Read More »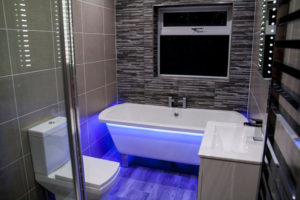 Bathroom Renovation
This is an example of a day to day bathroom renovation is Blurton  Day 1.Turn up to site at 9am, have a chat with the
Read More »
What my happy customers say...
Our customers love their new bathroom and kitchen renovations.
I live in Trentham and Simon came and renovated my ageing bathroom. He did such a fantastic job and I will have him back to renovate my kitchen next! Thanks Simon
An excellent service all round by Stoke Bathrooms. Simon turned up on time everyday and finished the job on time. I am very happy and would use him again.
I live in Stoke and we had Simon the bathroom fitter fully renovate our bathroom. He was very polite and kept the mess to a minimum. I can't fault anything he has done. A first class renovation. I highly recommend him.
Simon came out one evening to to my home in Trentham to have a look at my bathroom which needed a full renovation. he provided an excellent service all round. He turned up on time everyday and finished the job on time. I am very happy and would use him again.
Stoke Bathrooms came to give me a quote on fitting my new bathroom suite. He gave me a quote for a full supply and fitting renovation. I was very happy with the quote and the fact that he took time out of his evening to come to my home. He completed the job whilst I was away on holiday. Simon is very trustworthy. 5 Star service!
We first had Simon out to renovate our ensuite. He did such a good job we had him back to renovate or main bathroom. The following year we had him back to renovate our kitchen. We cant praise him up enough for his excellent standard of work. If you want a new bathroom or kitchen dont hesitate in giving him a call. Thanks Simon
Top job Simon!!! We love our new bathroom you fitted. Many thanks, pop in for a brew anytime
Simon quoted for a boiler room / toilet conversion. I was extremely happy with the competitive quotation and readily placed my order with him. The works included a complete strip out of the room followed by plastering, tiling, new flooring and the installation of a new bath, basin, toilet and all the associated pipework. The works were completed on time and the extremely high level of workmanship is amazing. I would not hesitate in recommending Simon to anyone and will be using him again on future projects. Thanks for a great job.
Great service, Great price! Our Bathroom looks amazing! He always cleaned up after himself. Will use again.
Simon did a brilliant job replacing our old worn-out bathroom with a completely new and modern one. We are very pleased with the result and have no hesitation in recommending him.
Stoke bathrooms and kitchens have fitted us the most gorgeous bathroom to replace a dated suite. It looks better than we ever could have imagined!
After being let down and/or uninspired by various bathroom fitters, I gave up on trying to find someone via a trade website, and went searching independently. That's when I came across Simon and I'm glad I did. When he came out he seemed to share our vision for what we wanted and was fairly thorough. We had to wait six months before he could begin the job, but it was well worth the wait. Although the job wasn't as straight forward as what he probably had hoped for, nothing seemed too much trouble and the end result it's clear to see (photos on his website) is that we have a stunning shower room. So much so that my wife wants him to fit a new bathroom that's not even five years old yet! HIGHLY recommended 👍
Just recently had a bathroom fitted with stoke bathrooms, and what a brilliant job they've done. I'm really impressed with the quality, and Simon is a perfectionist and extremely hard working. I would highly recommend to anyone that's looking to get a new bathroom.
Thank you so much Simon from Stoke Bathrooms & Kitchens. You have done such an amazing job and I am absolutely delighted with the bathroom, such a transformation! Can't thank you enough!!! Total perfection from start to finish!!
Thanks so much for my lovely new bathroom!! Great work, neat and tidy love it!! 🖒🖒❤ Would recommend!
We contacted Stoke bathrooms for a quote for a bathroom refurbishment Simon responded and quickly did the quotation which we were happy to accept .A date was arranged for the work to start and everything was completed to our satisfaction .As we both work Simon was given a key to let himself in to work and was very trustworthy we have no problem recommending Simon .Everything was stress free and a small problem was solved the following day . Thanks